Class Prices & Times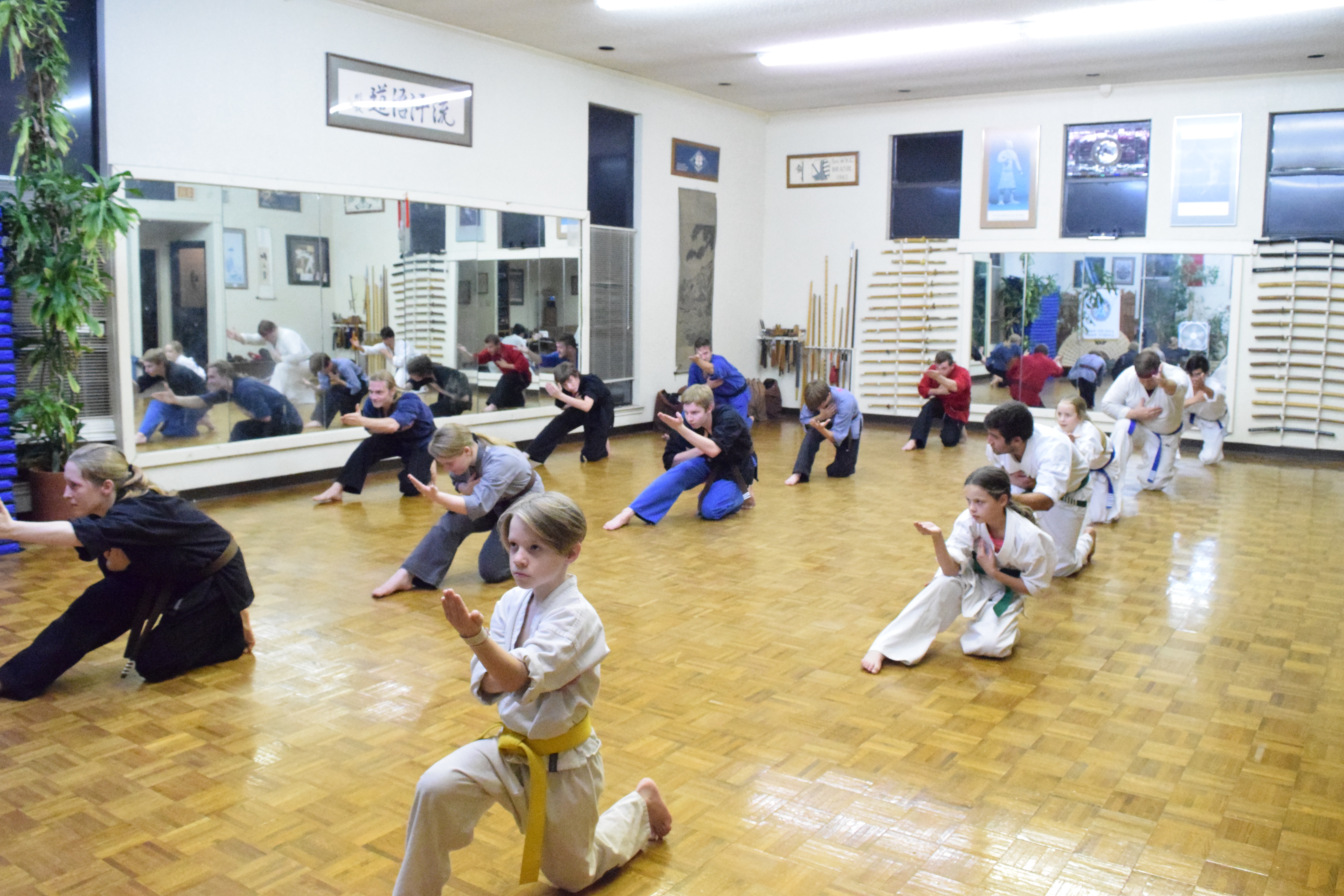 *This academy is pleased to offer all beginning and transfer students a FREE TWO WEEK INTRODUCTORY COURSE.
This allows individuals to experience first-hand the level of training and the standard of excellence offered in our curriculum. As always, if the student decides to enroll, they will receive a FREE uniform.
We are located at 612 Hercules Lane, Denton, TX 76209.
Monday
◦ 4:00 pm – Open
◦ 4:00-6:00 pm – Private Instruction (as scheduled, by appointment only)
◦ 6:00-7:00 pm – Personalized Training Sessions
Tuesday
◦ 4:00 pm – Open
◦ 6:00-7:00 pm – Beginning Level – includes linear 'power base' techniques, basics of 'flow' including figure eight. All training in preparation of the first rank of Gold belt (approx. 3 months)
◦ 7:30-8:30 pm – Intermediate Level – includes continuous training curriculum in mixed martial arts for 'stand-up' and ground-fighting including defensive and counter defensive techniques for both 'free expression' and street defense for ranks of gold, green, blue, brown and black
Wednesday
◦ 6:00-7:00 pm – Ancient Weaponry (gold belts and above) – includes basics for all traditional weaponry, knife and club, both bladed and unbladed, non-combative and combative (for street defense)
◦ 7:30-8:30 pm – Swordsmanship and Sword Arts – basic skills for fast-paced, high endurance training (40% faster than stand-up/empty-hand)
Thursday
◦ 4:00 pm – Open
◦ 6:00-7:00 pm – Intermediate Level (same as above)
◦ 7:30-8:30 pm – Beginning Level (same as above)
Friday
◦ Closed
Saturday
◦ Exams, Seminars, Clinics, and Special Events (as scheduled)
Monthly Tuition
◦ Single Individual:  $70.00
◦ Family of 2:  $100.00
◦ Family of 3:  $120.00
◦ Family of 4:  $135.00
Private Instruction
◦ $30.00/hour on premises
◦ $100.00/hour off premises
Exam Fees 
◦ Gold Belt, Advanced Beginner:  $40.00
◦ Green Belt, Beginning Intermediate:  $60.00
◦ Blue Belt, Beginning Intermediate:  $60.00
◦ Brown Belt, Advanced:  $75.00
◦ Sho Dan Black Belt:  $300.00
◦ Ni Dan Black Belt:  $350.00
◦ San Dan Black Belt:  $400.00
NOTE:  ALL FEES ARE NON-TRANSFERABLE AND NON-REFUNDABLE
Payment
Payments must be made monthly. All payments are due by the 10th of the month. After a one day grace period, DAMA will assess a $10.00 late charge. All fees are non-transferable and non-refundable.
Enrollment: When you enroll, you will pay for first and last months training fees. This enrollment charge helps offset the cost of the uniform which is included for one or more individuals. NOTICE: This agreement does not include short-term travel, vacations, personal crisis, or conflicting schedules.
Holidays
New Year's Day, Martin Luther King Jr. Day, Easter, Memorial Day, Independence Day, Labor Day, Thanksgiving, and Christmas.